Hearing Products
If a hearing aid or device is necessary for your hearing journey, our experts will guide you to the best solution. We offer the latest hearing technology and products that address a wide variety of hearing loss concerns, helping you reconnect to the world around you.
Hearing Product Guide
Curious About Hearing Technology, but Not Sure Where to Start?
With so many styles and options, it can be difficult to know which products will suit your needs. Our Consumer Guide to Hearing Aids provides an in-depth breakdown of the different types of hearing devices, as well as the technology available for all types of hearing loss.
Hearing Aid Manufacturers
Hearing Products Created by the Best in the Industry
When it comes to hearing loss, you need a device you can rely on to perform its best. That's why we carry products from manufacturers with a proven track record of exceptional quality. No matter your budget, lifestyle or type of hearing loss, we have a product to meet your needs.
Hearing Technology
Modern Solutions For All Types of Hearing Loss
Thanks to advances in technology, hearing products are designed to be more compatible with our lives than ever before. In addition to hearing aids, there are a number of products that make living and communicating with hearing loss easier to manage, so you never miss a beat.
30-Day Trial – This try-before-you-buy program helps users to get used to the features of the device. It is a no-risk way to get comfortable with new hearing aid technology.
Loaner Hearing Aids – Loaner hearing aids are used in place of the main device that is out for repair. They are free for patients that buy hearing aids from Brentwood Hearing Center. Hearing aids purchased from other clinics are still covered by loaner services with a small fee attached.
Hearing Aid Batteries and Battery Club – When the batteries on hearing aids go out, having replacements handy become a necessity. Battery club members gain the advantage of discounts on hearing aid batteries. This discount covers size 10, 312, 13 and 675.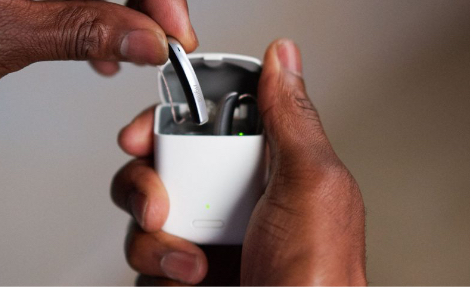 There are many Hearing Aid Compatible (HAC) cell phone accessories that can enhance the experience of your hearing aids. These are products that work with the settings on your hearing aids that allow for features like Bluetooth connectivity, hands-free calling and more.
More on Cell Phone Accessories
There are many different hearing aid styles, each with their own pros and cons. The three main groups are behind-the-ear (BTE) hearing aids, in-the-ear (ITE) devices, in-the-canal (ITC) styles and receiver-in-the-ear (RITE) types. Within the subcategories of these three main groups are styles that cater to design, comfort and features.
More on Hearing Aid Styles
Hearing Protection
Make Protection a Priority
Protecting your ears from noise damage is essential to healthy hearing. We carry a wide variety of options equipped with the latest features and customizations, so you can find the best fit for your lifestyle.
Customized ear molds and ear plugs are specialty devices used to keep harmful noise away from the ears. Hearing protection is important in environments where sound is at a damaging level. Based on the type, they can provide a wide range of benefits suitable for personal or professional life.
More on Hearing Protection